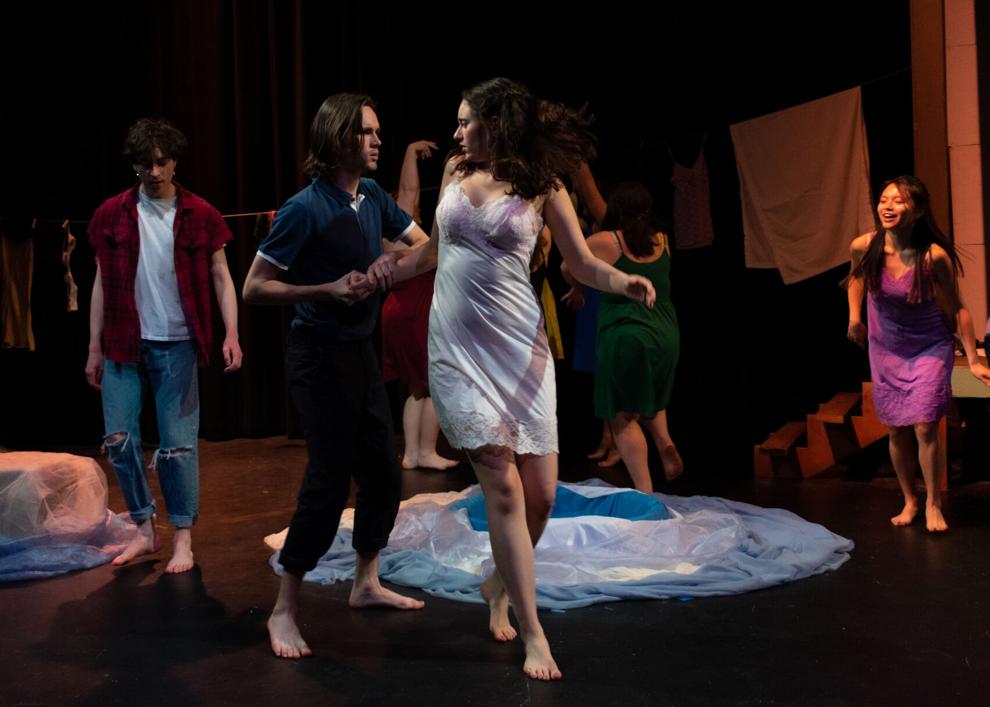 "O Romeo, Romeo! Wherefore art thou Romeo?" reads Juliet's most famous line from Wiiliam Shakespeare's legendary 16th century play, "Romeo and Juliet."
The line is said by a woman, yet it's about a man. Here we are, in the 21st century, still talking about not only Romeo, but also Othello and Hamlet, among others.
Shakespeare's works continue to influence our society, with his ink continuing to stain our culture as it did paper all those centuries ago.
Although Shakespeare's work still circulates, it's time we all respectfully come to the conclusion that the playwright was a privileged, white man born into an era when Europe was starving for entertainment and taking anything they could get.
Caridad Svich, the playwright of "12 Ophelias," certainly agrees, as does UW's Undergraduate Theater Society (UTS).
To give more appropriate context to the bard's work, they've taken it upon themselves to expose their audience to a retelling of one of Shakespeare's most famous hits through a lens unheard of in Shakespearean times: the female gaze.
In "12 Ophelias," a feminist remake of "Hamlet," Ophelia finds herself risen from the water to find that Gertrude (Hamlet's mother) runs a brothel, unlike in Shakespeare's original where she reigns as the Queen of Denmark. Other differences abound throughout the play; for example, Hamlet is referred to exclusively as "Rude Boy."
Ophelia navigates a "neo-Elizabethan Appalachian setting" through an exploration of sexuality and womanhood, according to Svich. The title is meant to represent the multidimensionality of a human — something that female characters are rarely given.
"Ophelia in the play 'Hamlet' is used as a plot device," chorus member Emma Murphy said. "She never becomes her own person and is used only to move Hamlet's story along. In this show, she is allowed to become her own person."
While you don't have to read "Hamlet" before watching "12 Ophelias," a short summary of Shakespeare's original is useful. According to the Shakespeare Birthplace Trust, the tormented Hamlet plots to kill the new King of Denmark — who happens to be his uncle — with the help of his girlfriend, Ophelia. In the end, Ophelia, the King, Queen, and Hamlet are all ultimately killed.
The UTS intentionally chose a minimalistic style regarding the set and props, which blended well with the story's fresh, female-centered take. From a beautifully decorated pool set in the center of the stage to modern female undergarments hanging across the back of the set, the show's design poignantly complemented its anti-patriarchal themes.
Personally, I found the play's use of water to be very compelling. The pool, which symbolized how the story revolves around the behavior of water, often mirrored the character development happening onstage. The rippling of the water, as it mirrored Ophelia's growth, was a creative way to help the audience follow her development.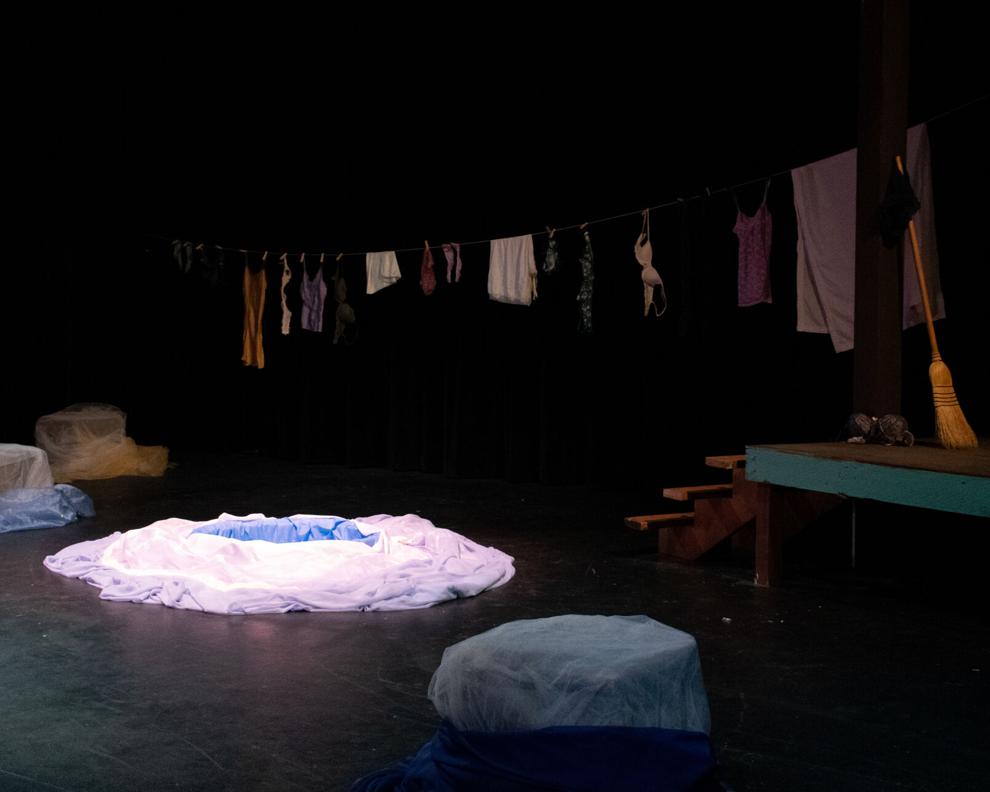 Many characters, such as Rude Boy, had interesting moments with the water. At one point in the performance, Rude Boy asks his friend to punch him, and he chooses to receive the blows while standing in the pool of water, thus wetting his costume.
Perhaps the most impressive aspect of the play was the high-level acting from Ophelia, played by Daisy Schreiber. Schreiber and chorus members Julia Sevigny, Emma Murphy, Sophie Knight, Ellie Unger, and Hannah Saito represent the "12 Ophelias."
Schreiber plays the titular character, and the rest of the chorus appears whenever Ophelia experiences a life-changing moment, such as when she finds herself in Rude Boy's arms. Together, they embodied the growth in Ophelia's womanhood perfectly.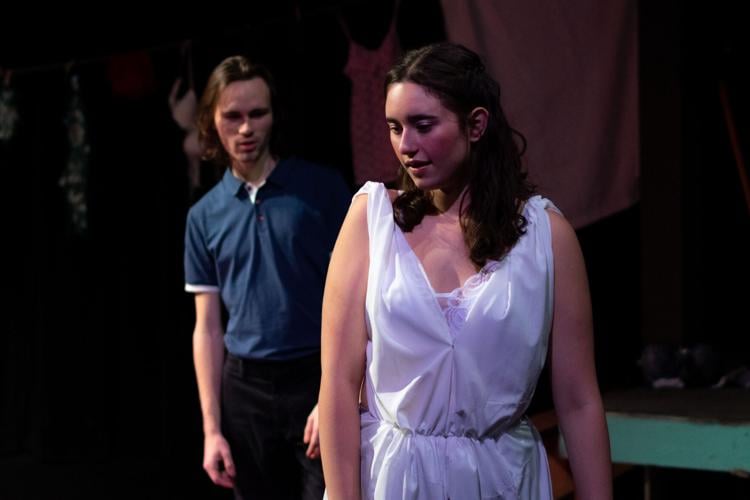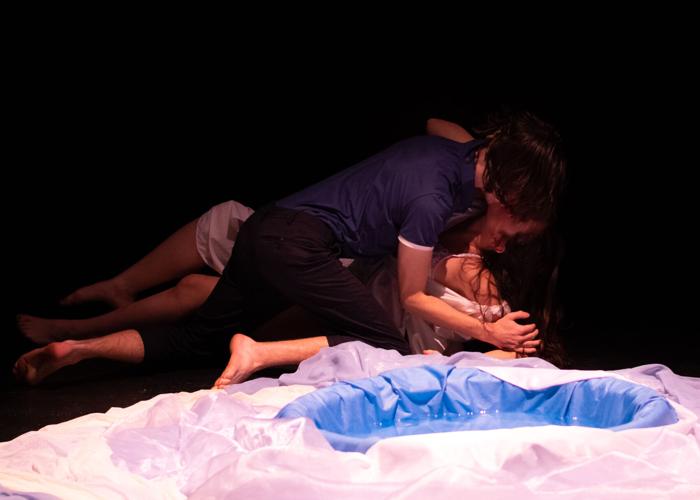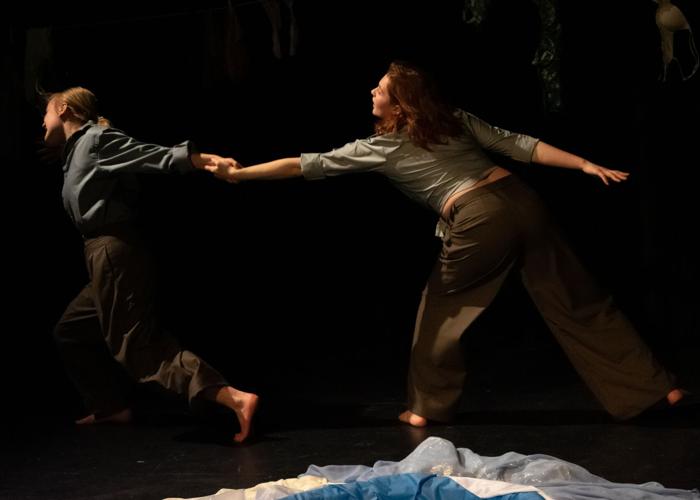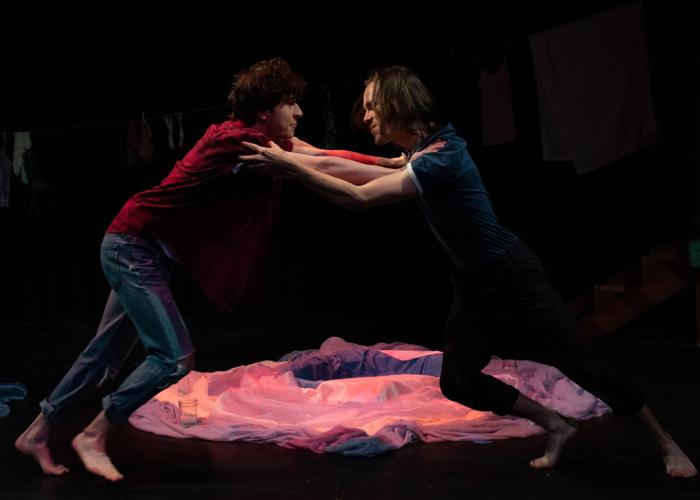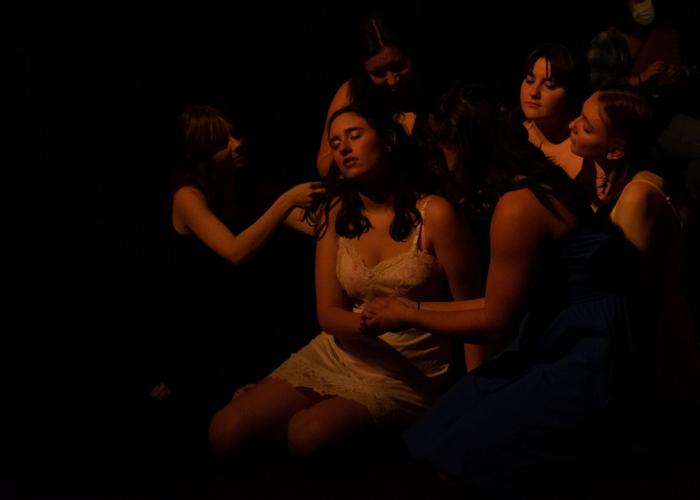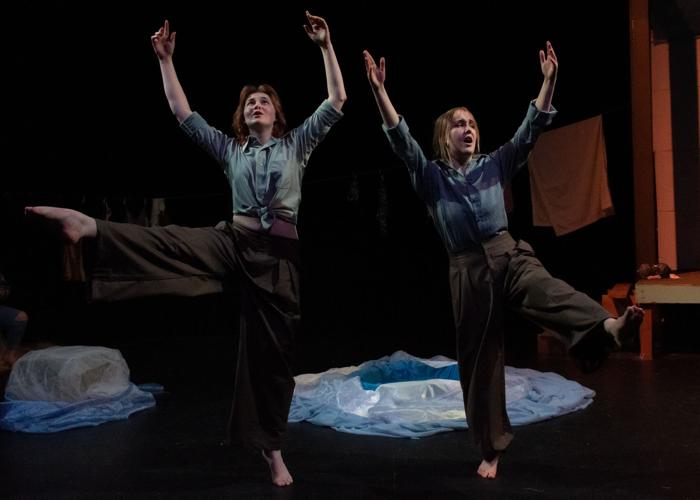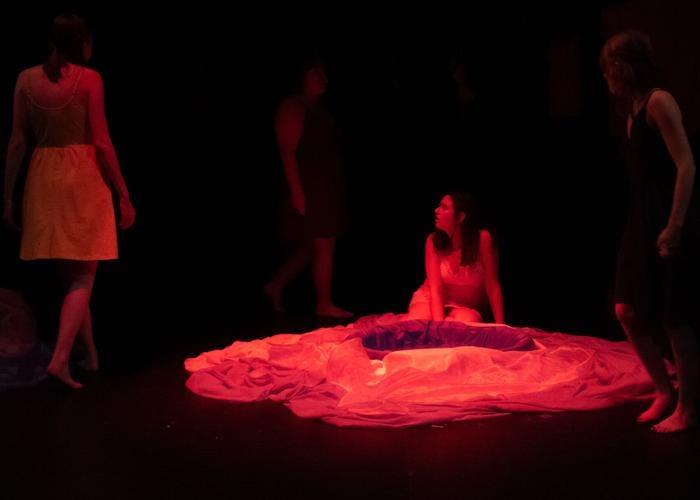 Ophelia begins the play with a spark of innocent childhood gleaming in her eyes, meant to demonstrate her gullibility and child-like worldview. But, by the end of the play, her eyes have hardened to the reality of the patriarchal world she lives in. The way in which the actresses were able to manipulate their gazes to show the growth from girl to woman will stick with me for quite a while.
"'12 Ophelias' is for anyone who has ever loved a person who has hurt them," director Priya Hendry said. "[It's for anyone] who has ever thought it would be easier to forget — and forgive — than to hold on to the memories and leave. [Anyone] who has ever let someone else tell them who they are. You can expect to cry, but you will smile too, and really, I think that's all we can ask for."
"12 Ophelias" will be running January 12-15 at the Cabaret Theater in Hutchinson Hall. Tickets are $12 for students and $17 for general admission.
Reach contributing writer Dany Villarreal at arts@dailyuw.com. Twitter: @danyvvm03
Like what you're reading? Support high-quality student journalism by donating here.