Eating healthy is something we all should do, with or without a disability. January is often a time of self-improvement and goal-setting, so the New Year may be the perfect time to change your eating habits. You may need to find a plan.
Here, nutrition advocate Tracy Williams shares five adaptive meal plans for people with disabilities and accessible ways to cook meals.
I have a degree in Nutrition and Dietetics from Dominican University and have been a consultant to three organizations serving the disabled community in America. Having cerebral palsy myself, I know very well how important good nutrition is to your body, whatever your disability.
With no calorie or food group restrictions, we have great meal plans to help you stay healthy.
mediterranean diet
A Mediterranean diet includes whole grains, fish, seafood, fruits, vegetables, herbs and spices, nuts, seeds, and a variety of legumes. These provide healthy fats and fiber and are beneficial for gut health, brain health, and heart health.
When starting the Mediterranean diet, it's a good idea to relax your eating plan. Consider eating a meatless diet and a seafood diet 2-3 days a week.
Poultry and red meat should be eaten 1-2 days a week, and red meat only occasionally.
mediterranean diet recipes
Creamy Chicken Marsala – Easy and delicious creamy chicken marsala in 20 minutes. Enjoy over whole wheat pasta or brown rice.
One-Pot White Bean Pasta – This white bean pasta prepares a great one-pot family meal in under 15 minutes. It's chock-full of fresh ingredients, protein, and veggies, and it's hassle-free.
dash diet
DASH diets (Dietary Approaches to Stop Hypertension) are healthy eating plans aimed at treating or preventing high blood pressure.
Contains foods rich in nutrients such as potassium, calcium and magnesium, all of which help control blood pressure.
This meal plan focuses on fruits, vegetables, lean protein, low-fat dairy, nuts, seeds, and legumes.
The DASH Diet offers daily and weekly nutrition goals. The number of servings you should have depends on your daily calorie needs.
Nutritious grains such as brown rice, quinoa, whole grain pasta, bean pasta, and whole grain sandwich bread should be consumed 6 to 8 times per week.
Fruits and vegetables should be consumed 4-5 times a day. Low-fat dairy products can be consumed 2-3 times a day from foods such as yogurt, cheese and cottage cheese. Drinking less dairy can help reduce mucus if you have a lung condition or environmental allergies.
Red meat, poultry, and fish should be consumed 6 times a day, with 1 ounce servings per serving. Nuts, seeds and legumes should be eaten 4-5 times a week. Healthy fats and oils should be considered two to three times a day.
DASH diet recipe
flexitarian diet
A flexitarian diet is essentially a flexible alternative to going vegetarian. The focus is on a plant-based diet, which means eating high-fiber grains, beans, nuts, legumes, fruits and vegetables, meat, poultry, or eggs occasionally.
If you still love burgers and steaks and don't want to limit them, being a vegetarian may be inconvenient. A flexitarian diet is a good option.
You can easily incorporate a flexitarian meal plan. It's a great idea to start consuming more fruits, vegetables, and healthier grains. fine.
Be flexible with your meat and animal products. Eat less processed foods and consume more natural food sources while adding less sugar and sweets.
flexitarian diet recipes
sweet treats and healthy desserts
Instead of ignoring your sweet tooth, it's best to focus on smaller desserts like small brownies, cupcakes, and small muffins instead of big cakes and big brownies.
Fruit cakes and fruit salads are also healthy dessert options, and even individual fruits like bananas, peaches, and strawberries are fine.
healthy dessert recipe ideas
Peach Crisp – This top-notch recipe features fresh peaches, brown sugar, oats and a kiss of cinnamon for a perfectly gooey dessert.
Strawberry Oatmeal Bar – A healthier fruit dessert made with fresh strawberries, a whole grain butter crumb topping, and a slightly sweetened vanilla glaze.
Cranberry Orange Muffin – The buttery moist cranberry orange muffin has a rich flavor and bursts of cranberry in every bite.
liquid intake
In addition to eating the right foods, you should also stay hydrated. The amount of water a person should drink each day depends on the health authorities. The NHS recommends 6-8 cups or glasses per day.
The National Academy of Sciences, Engineering, and Medicine has determined that an adequate daily fluid intake is about 15.5 cups (3.7 liters) for men and 11.5 cups (2.7 liters) for women.
You don't have to limit yourself to just water. You can include tea, 100% fruit juice and coffee to improve your daily hydration habits. Watch your sugar and caffeine intake.
You can also make smoothies at home to stay hydrated five times a day. Again, be aware that blitzing fruit, in particular, can release more sugars and reduce fiber.
If you have limited hand capabilities, there are large button blenders on the market that are easy to use.
Many people have problems with bowel and bladder health, so fluid intake can help alleviate these concerns.
However, it is a well-known concern that people with disabilities may limit their intake of liquids due to the difficulty of finding accessible toilets in public places. This should not happen due to
Even if you feel the need to limit your fluid intake, it's still a good idea to drink as much as you can and carefully plan how and when you go to the bathroom.
If you have trouble accessing or holding your drink, try the Hydrant water bottle with its long tube and bite valve. This allows you to drink hands-free from your couch, wheelchair or bed.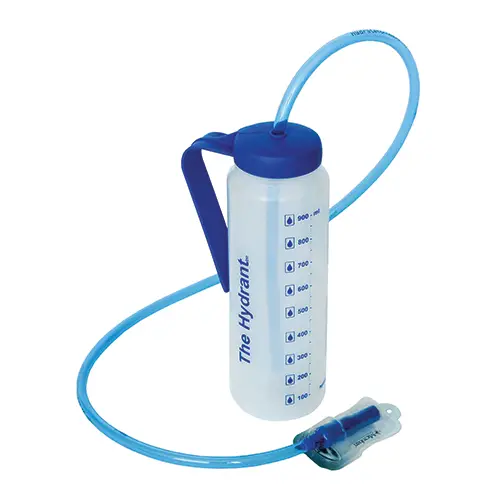 healthy drink recipes
Green Juice – This green juice recipe is easy to make in a blender and packs in nutrients! Bright and refreshingly delicious. It contains plenty of green vegetables such as spinach, celery, and cucumber.
Fruit and Yogurt Smoothie – A healthy smoothie filled with berries, bananas, a teaspoon of pineapple juice, orange juice, white sugar and yogurt.
Additional advice and meal plans for people with disabilities
Here are additional resources with information and recipes for eating for people with disabilities or health conditions:
Cooking Aids and Adaptive Kitchen Aids
There are no restrictions on cooking, regardless of your disability, whether you cook for yourself or with the help of a family member, spouse or caregiver.
There are also a variety of kitchen utensils, such as cutting boards with non-slip bottoms, nails to hold food while cutting, and easy-to-grip cutlery.
If you have trouble cutting food, consider buying an electric chopper to ease the pain in your hands, or a jar opener with a wider grip.
If you're blind, we recommend using an audio thermometer, microwave, scale, and liquid level indicator when pouring drinks.
No matter what meal plan you choose, cooking multiple batches of food and storing them in the freezer can save you on daily cooking and benefit everyone with chronic fatigue.
Check out our wide range of kitchen aids at the Disability Horizons Shop. Tipsi Tray Tray that does not spill with one hand, Knork knife and fork in one When cool hand hot plate holder.
Tracy Williams
You can connect with Tracy Williams at: www.tracysplate.com.
Learn more about disability vision…