MeIt's a performance that has continued to captivate Indian audiences over the past few weeks, and it's also helping to challenge the country's huge lack of disability inclusion. , an astonishing duet with Estonian ballerina Yves Muzzo touring the big towns and cities of India.
Performance 111 tells the story of dancers who met in 2016 at Glasgow's Scottish Ballet. Seemingly unbound by physical limitations, the duo move in perfect sync through shifting rhythms and lyrical sequences, pushing the boundaries of dance.
"When Eve and I first met, I wrote her a series of notes, each ending with an invitation to dance," says Brown, a dancer with Kandoco, Britain's leading inclusive dance company. Sometimes I say it in sign language, gesturing.
Over four years in the making, 111 has toured India with the support of Creative Scotland and has already performed in England, Scotland, Northern Ireland and Georgia. It was a sold-out show at the Edinburgh Fringe in 2019.
A film version has screened at several international film festivals during the 2020 pandemic. In India, 111 premiered at the Pickle Factory Dance Foundation's festival in Kolkata, raising uncomfortable questions about its accessibility and inclusiveness to the Indian cultural space.
"Ironically, we searched 111 venues in the city and could not find a single one with wheelchair ramps. We had to build our own stage for this performance. I did," says Dana Roy, Creative Producer at Pickle Factory.
Speaking at the aftershow event, Brown spoke about her experience as a paraplegic dancer. The Americans With Disabilities Act is her one of the world's finest laws on disability. This makes my life in the US very simple," he said. "But when I travel with performance, it's incredible to see how my body differs in cities in America and around the world. Because of the accessibility to infrastructure and the quality of public space. and what you can and can't do."
For disabled people in India, 111 was a first experience. We offer touch tours before the show for the visually impaired. You can then listen to an audio guide that you can download on your phone. "The purpose of the stage tour is to give people a spatial understanding of the show. increase.
India is a signatory to the United Nations Convention on the Rights of Persons with Disabilities (2007), yet it suffers from social prejudices and indifference to meeting the needs of persons with disabilities. In arts and culture, this means inaccessible venues and performances with little or no participation by people with disabilities.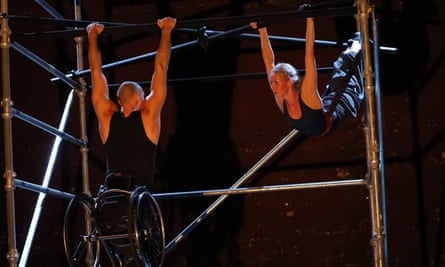 "This is a chicken and egg situation," says Siddhant Shah, an organization with Access for All that works to bridge the gap between culture and disability in India. "Heritage managers, gallerists and show organizers dismiss such comprehensive infrastructure upgrades, arguing they will do little. I feel it keeps me away from
Ishan Chakraborty, who is visually impaired, attended the show and took the touch tour. "When it comes to performing arts, you automatically exclude yourself when you know it's nothing for you. It was the first time I could really understand what was going on. ' he says.
Chakraborty says the constraints on participating in public life are more difficult than the challenges posed by disability. "This show is a step forward in shattering the dichotomy of disability, the dichotomy of whether or not we can do it."
The Shah refuses to view access to the disabled as a virtue. "This should not be seen as optional. Inclusivity has to be regularized and integrated at the planning stage. They range from a token response to a holistic approach that has led to greater inclusivity.
"Access is only the first step, but recognizing the needs of this community inevitably allows us to recognize our commitment to the culture itself."
Both Mutso and Brown have engaged in inclusive practices in their individual works. Brown is with Candoco and Mutso is with the Scottish dance company He Indepen-dance.
Mutso said he was happy their show drew attention to the issue of inclusion, but said it wasn't intentional. "We support inclusive practices, but our duet didn't have a specific inclusive agenda. We just have the mindset of leaving no one behind. It's only as strong as the weakest link."