Some people protect their dogs. Some people protect cats. I save the book
It started innocently enough. Four years ago, we made a big move from Northern California to San Diego. And it was necessary to reduce the fortune for life.
For me, that meant eliminating decades of books. We've sorted through years of club recommendations, personal favorites, and old USC textbooks. I slimmed down my bulging bookshelves, destabilized my staircase collection (thanks Dean for this storage idea), and pried books out of closets full of beloved but never-read-again classics.
I donated books to the public library. We gave the book to friends who were happy (and not so). I wanted to make sure my book was delivered to a loving home, or at least given a chance to be adopted by the library.
Our new home in La Jolla is small and comfortable. There is barely enough space for one bookshelf. At first, I was able to live in a mostly unbooked residence. I learned to enjoy audiobooks on CD while commuting in the Bay Area. Currently, I borrow from her three county cloud libraries or download from Audible. I also love reading library books on my iPad. The iPad was a great solution for travel, and even better for reading under the covers on sleepless nights.
But funny things started happening in my new neighborhood. I discovered many small free libraries on my daily walks. Most are filled with neglected and battered books. But to my surprise, some are filled with the latest bestsellers, award-winning books, and Nobel Prize-winning books.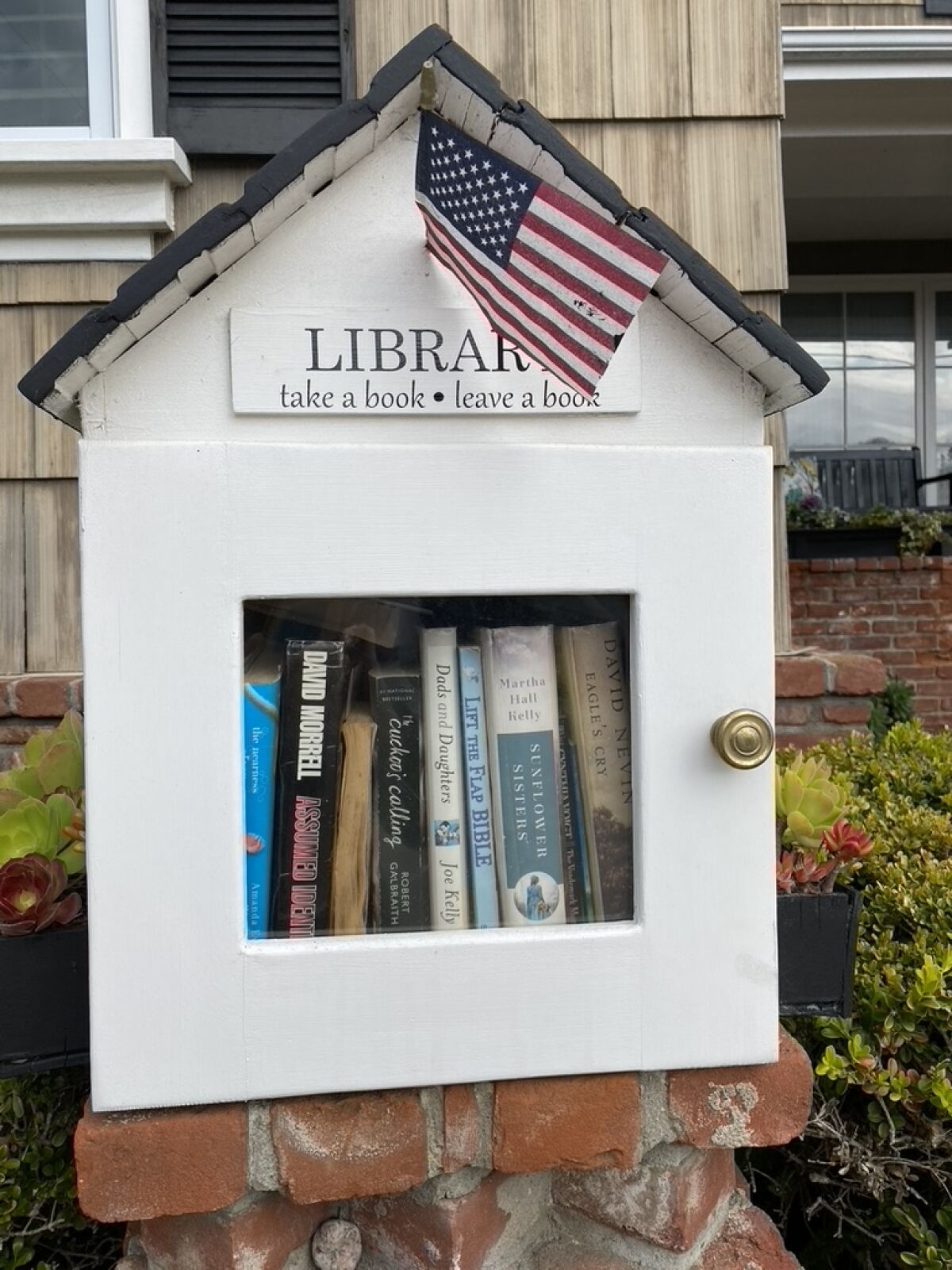 I can't accept the idea that a great book spends its last days facing the elements and huddles in an unheated LFL box on your neighbor's front lawn. So one day I took the book home. And one more thing. And one more thing. Especially from one of the little book baskets frequently given to me by my reading neighbors. I make a point of passing by the literary-rich LFL every week.
Of course, my intention is to read all of these precious books and then return them. returns Especially if I didn't love it. I also lend it to people I know like a particular novel.
Collections of rescued books began to pile up under coffee tables, hills on office floors, dens and under beds. But they are safe here and get along with each other. I don't think they want to go back to the plain LFL box. But I don't ask them either.
I don't just save discarded books from living on the streets. The La Jolla/Riford Library has a huge selection of gentle reading books priced at $1 or $2 apiece. In fact, I have just returned with three hardcover books from him. These books are also worthy of a permanent home full of love.
My $6 library belongings: Nicole Krauss's "Forest Dark," Kazuo Ishiguro's "Klara and the Sun," Jonathan Safran Foer's "Here I Am."
Each book is by an author whose previous work has moved and restored me. Certainly when I read them I cannot let them lie disgracefully in lesser fiction.
I don't like books. I am a book savior. It makes me happy to see a book. I love hanging out at bookstores. But there is no particular joy in cracking the spine of a new volume. A little help in retrieving the beloved books sent to Meadows will get me high.
I do not judge why others dispose of books. Now I know why I got rid of my Bay Area collection. It was a justifiable reduction in moving costs. But I still feel guilty. And I still miss the musty mountains.
So I rescue the book. The stack grows. And my little house is slowly but surely becoming more like home.
— Mimi Sells is a La Jolla resident who blogs nobluehair.com. ◆