At Sea – An Autistic Perspective: I am a sea creature forced to live on land. Earth has many wonders, but I still yearn for my home, water.
The sea matches my thoughts. A deep, shimmering, changing, abstract painting of color and light. Mysterious and magnificent, it doesn't require words, but it hints at the unknown abyss beneath it. The world below, and the world within, full of strangeness and wonder.
On land, thinking needs words and labels and boundaries. They run into social structures, fall apart, or clash with each other. Sharing thoughts of hitting the ground, dripping, dripping, and rushing is often seen as wrong. Water moves, twists and turns my thoughts and makes the ebbs and flows so smooth.
At sea, I am suspended in another dimension, mesmerized by the timeless soul whispers of great poets, artists and philosophers who have been touched by the vastness of the ocean. Alone, thought expands, brilliant plans and fractal dreams blossom.
The sea matches my weightlessness. If your body doesn't feel like it's on land, that's a problem. Sorry for bumping into things, oops! The land is full of thorns, walls, and itchy things. You have to wear foot covers, but you can't walk because one lace is tighter than the other, or you can't hear the screams in your head because the sock seams aren't in the right place I don't care if I ignore you when I get stuck with a grain of sand in my shoe.
The water is soft and smooth, glides like everything and nothing on my skin. On land you don't know where your edge ends and the universe begins, but underwater it doesn't matter. No need to start or end. can be liquid. stumble. I can dance freely without straining. Put the laws of physics aside and no longer be a slave to gravity.
The ocean doesn't require layers or makeup. A minimal amount of fabric will suffice if justification is required. No shoes, accessories, neat hair or professionalism required. The look fades into the background, with wavy current connections taking center stage in the swell.
The sea suits my mood. On land, my emotions are too big, too soft, too intense, too hidden, and they are never right. Underwater, there is no need to separate and label the boxes. I can swim in sadness and joy at the same time, let them flow out of me and mix with the waves, pounding furiously, or floating namelessly.
Here in this world of water I can let go, drown below the surface, suddenly indistinguishable from water, tears and abandoned fears. All and nothing, released, vanished, only a drop in the ocean.
The sea matches my movements. The crashing breakers and rolling waves reflect my restless inner landscape, and my voice is heard. Here you can flick your fingers, tap your toes, fidget, and the water accepts all without judging. Here you can play, jump, jump, wiggle, hit, laugh and scream. Enough sky to absorb my sound, enough space to welcome my dimensions, and enough ocean to allow my eccentricities.
And here I can also stay still and just breathe and be as the water shakes me and moves for me.
Sea waterbeds allow for relaxation and cuddling. On land, there is nowhere to rest. The softest mattress and the fluffiest pillow hug me only for a short time, and the harsh edges of life pierce me again, aching my bones and spirit.
The sea matches my senses. Surrounded by the beauty of the moving sands of the seabed, surrounded by the caresses of the sun shining through aquamarine waters and delicate white bubbles, I am immersed in joy. Infinite patterns of color, vivid shadows and lines to look at, an endless mix of repetitions and changes in my very own personal theater show. is different, intense yet natural.
I can sink under the water and see the glints of light fly over the undulations. , it's strange to move your head around to see the light change. It's strange to block your ears from too much noise or be glued to the movement of leaves. On land, I'm in constant contact with some surface or something else, but in the ocean, I have the choice of floating and textureless, or having sand fly off my fingers.
At sea, you can escape humanity for a while. Even if other people share the space, it's not difficult to step away or go to the side and claim your own ocean. In land, rooms and walls and passages and roads define so much space, too many people and not enough doors, that I need those moments of denial. Every day I step again into the man-made structures of exclusive dog-eat-dog towers and social scaffolding that don't support a person to thrive, my essence burns a little more.
The earth divides time into incredibly small chunks and expects them to provide nourishment. I expect that the rules will be followed and that small talk will take place. We expect you to clip and share each part of your day to prove your worth. It demands more and more of me, to build layers of papier-mâché protection until I'm glued shut and begging for pieces of recognition.
Everything is small, nothing is small, rules are few and universal, so there is no small talk in the ocean. Nothing to prove underwater. All swimming styles are valid and there are no taboo topics. You are free to imagine a world where everyone is needed and cared for. And I'm free to think what would happen if one day I left the land behind and the tide took me to the horizon. Remembering that there is music and mango, I wonder if there is a way for land and sea to meet.
On a surface level, I am a sea creature because I love water. A world paved like sandpaper feels so cool and so delicious. And, as Anais Nin said, "I must be a mermaid, because I have no fear of the depths and I have no great fear of life in the shallows."
I wasn't fit for this world, but here I am, daughter of the sea, land-dwelling selkie.
Scraped raw by the hard edges of reality, marred by depraved ideals, and worn thin by the struggle for survival. But still here. Seeking the truth, finding relief in the sea.
Sarni Bennetts
First published by Holly Bridges.
"This was written by my dear friend Saani who wanted to shed light on the beauty that comes with autism. Nurturing and supporting our loved ones as we progress and evolve." We wish you a beautiful, fun and inclusive 2023. Holly Bridges."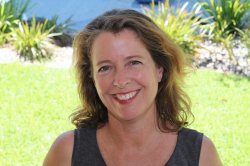 Latest post by Holly Bridges
(see all)