Times have changed, but life is still good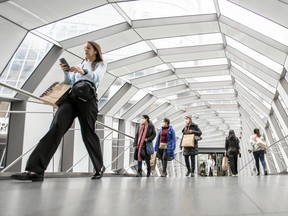 Reviews and recommendations are unbiased and products are independently selected. Postmedia may earn affiliate commissions from purchases made through links on this page.
Article content
dear ma,
It's been two years since I last wrote, so I thought it was time to give you an update here.
Article content
In a way, you are still very present in my home. What's left in the fridge is the score of his last game of dominoes, played nearly 30 years ago. Result: You are a winner, and in some ways still a winner. Samples of your handiwork are still around the house. But unfortunately the bathroom rug you crocheted is falling apart, and I hate to throw it away.
Life is slowly returning to normal after the last three years of what seemed like a coronavirus-ridden nightmare. Well, it doesn't. I have had a lot of injections and I feel my life will never return to what it was before COVID, not just because of COVID. Not that I am. At our age, each year counts and I've slowed down quite a bit.
Article content
So, even though COVID and other viruses are still around, I'm still careful, avoiding crowded places, wearing a mask, rarely going out socially, and being more 'medical'. He's out. I don't currently take public transportation, but I am grateful for Montreal's paratransit service.
When it comes to medicine, my main job is to keep every part of my body moving from head to toe, and my agenda is full of health-related appointments.
Today, changes are happening everywhere as the world awakens from the long sleep of COVID-19. Like me, you will be amazed when you walk into a pharmacy and see just one cashier working. After that, I saw people shopping in line in front of the cash register.
Another thing from the past is plastic bags. Shopping must be done with bare hands unless you bring your own reusable bag. Mom, do you remember how you brought home a heavy plastic bag full of groceries after shopping here in Steinberg, Montreal?
Article content
Another thing that might surprise you is smartphones, great devices that can perform many other functions in addition to phones. Just the other day, a friend paid for a parking ticket using a smartphone app. No, I still have what I call a "dumb phone". But it works well for emergency calls.
There have also been changes in the building. There is a new manager who is a very nice lady. Recycling is also a new term to you, but it is still very important. To help the environment, I am very careful about taking paper and plastic to the trash can downstairs.
As we said, entertainment and sporting events are back in full swing. I am still in contact with the Montreal Symphony Orchestra, but have signed up for his concerts online for now.
Article content
And why don't you go on a trip again? don't understand. I have to say my travel days are over as my friend did I continue to receive great brochures from senior her Discovery Tours I traveled with in the past. Some of the trips are really fascinating. But I want to go to the mailbox in the corner to post a letter, can I participate? When the urge to travel strikes, you can always visit relatives in New Brunswick, Ontario, Alberta or even California.
This year's Christmas was no different. I didn't have a tree, but I put up a decoration. I was not alone, but I was surrounded by the kind thoughts and good wishes of family and friends. We plan to continue this New Year.
Well, well, that's about it for now.
I will always be your beloved daughter.
Alice.
— Alice Lukacs writes the Life in the 90s column.