In 2019 The Sunday Express was contacted by a source at the Cerebral Palsy Association, claiming that there was an anonymous building on the compound of the St Ann's Hospital, filled with developmentally disabled patients
They were there because of abandonment, and because the State had nowhere else to keep them, it was alleged. This is the outcome of a two-year investigation by the Sunday Express.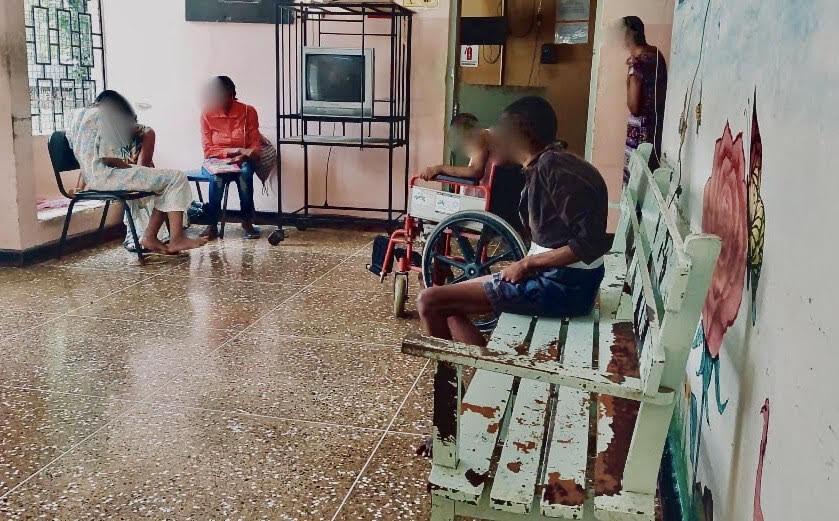 Near the Samaan trees close to the entrance of the St Ann's Hospital outside Port of Spain are two single-storey buildings that resemble the ones the Housing Development Corporation sells to middle income earners.
They were built 44 years ago with the intention of being used as wards for male and female minors with mental health challenges.
But this is not what we found at Ward 12 and Ward 13.
We found something well known to the health care workers of this institution, but a secret to those outside of this place.
The wards
There are broken toys and faint cries in Ward 12 (female), where 50-year-old Maria sits crouched in the corner near her designated bed, hands pawing at the mattress, eyes wandering across the faces of the visitors and nurses.
Here, inside the muted-pink room, behind the ward's nurses' station, this cerebral palsy patient has lived for more than a decade, her age only revealed by the greying hairs that cover her close-shaven head.
Maria was placed into the ward's care, after giving birth.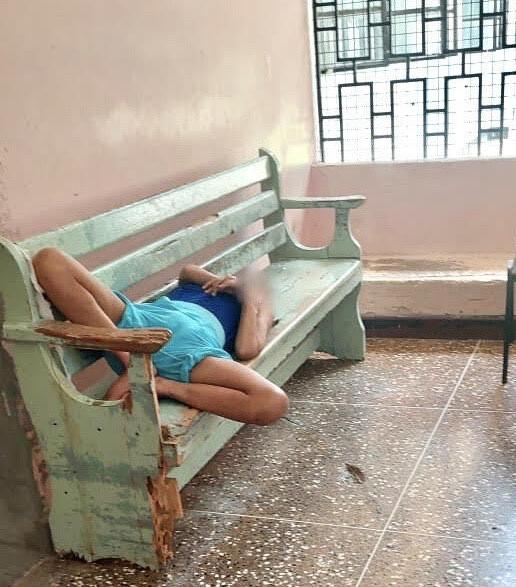 Trapped within the mind of a child, unable to tell others of her pain, the then-young woman had been sexually abused- raped and impregnated by a trusted family member.
Her changing body had gone unnoticed by relatives until she went into labour and give birth.
An investigation by the State would land Maria in the back rooms of ward 12, never to see her home again.
And in this room she now shares with two other developmentally disabled women, she has lived ever since.
What happened to her child is not known.
Today, she is one of 42 patients (all developmentally disabled) who are housed at those St Ann's Hospital wards, and who have grown into adulthood under the care of nurses.
Two of the women who share a room with Maria are diagnosed with cerebral palsy and confined to their beds.
Nancy, aged 30, no bigger than a ten-year-old child, and Natasha, the more vocal of the two, both abandoned by their families as children and placed into the State's care.
There are 17 other women, all suffering from varying developmental disabilities, including Asperger's and Down syndrome who are cared for daily by hospital staff.
Some use wheelchairs and others can be seen sitting on the ward's floors and crawling from place to place.
The faint smell of faeces and urine lingers throughout the building's hallways, accompanied by a few fluttering flies and the excited grunts and noises typical of children.
Many of these people have not aged mentally past the age of eight to ten years old, several of them still wearing diapers and ill-fitting clothing.
And for those who are excitable, surgical tape is used to restrain their reaching hands.
Abandoned as children or admitted to the Hospital by family members, some maintain limited contact with relatives who visit them sporadically.
Others have never known a parental figure, only grasping onto distant memories.
You may be greeted by a distant look and the mistaken memory of a lost parent.
"Mummy?" calls one young woman who sits inside the ward 12 entryway, greeting passers-by.
In the building next door, the occasional grunt can be heard from ward 13.
In this ward, 22 young men with developmental disabilities are housed.
At first glance they appear to be able bodied and healthy.
Only with further inspection of the distant gaze that sits on most of their faces, can the hint of a disability be spotted.
These ageless men sitting in the front room of ward 13 pass their days along with small guttural noises and confused looks at visitors.
Few of these are seated in wheelchairs, others sit and quietly gaze out of the ward's windows.
"Most of them don't speak. This is based on developmental disabilities, most of them are subnormal. Children have been here for ten years, twenty years, five years but they don't go beyond that age mentally. Some families visit them, some are wards of the State," said a healthcare worker who spoke with the Sunday Express.
Without an official designation as "disability wards", these vulnerable people have lived their entire lives within the two single-story buildings over four decades.
Nowhere else 
Commissioned in 1978 by then-Minister of Health and the Environment Kamalluddin Mohammed, the wards do not take new admissions, unless in special circumstances such as death or based on severity of the case. Many patients have grown up in these wards and some have died there as well.
Forty-four years have come and gone since its commissioning.
And in these years, the housing of the developmentally disabled on the compound of a psychiatric facility has melded into the Hospital's daily operations and gone largely unnoticed by the public eye.
"There is nowhere else for them to go, the Government has never really created that type of environment for them," president of the Registered Nurses Association Idi Stuart told the Sunday Express in May 2022.
Originally intended as a space to house children with diagnosed mental disorders, Stuart said that the wards had become the only available housing for the developmentally disabled adults who were without parental or guardian figures.
At the facility, he said, staff had found it difficult to navigate the needs of people with developmental disabilities as those assigned to these wards had not been offered official training to deal with the nature of these disabilities.
The people housed here, he said, were not afforded therapy, schooling or any additional activities throughout the duration of their lives at the wards.
"Unfortunately the staff are not actually trained to deal with those patients, it was never really part of the training. The staff at St Ann's were trained to deal with mental illnesses so the developmental disorders while you may know of them actually training and witnessing how you manage these children they would not have witnessed it in their training unless they take it upon themselves to do their own training."
"Really and truly when you think about it these children were left out of a number of activities that others may be part of. They have no schooling whatsoever, no therapy. They are basically just housed there. For the most part they are housed, cleaned and fed. For developmental disorders there would need to be a plan in place because it is a range," said Stuart.
In 2019, then head of the Disability Affairs Unit of the Ministry of Social Development and Family Services, Sharon Rogers, told the Sunday Express that she was not aware of any legislation that would provide protections for people with developmental disabilities who were without adequate care from parents or kin.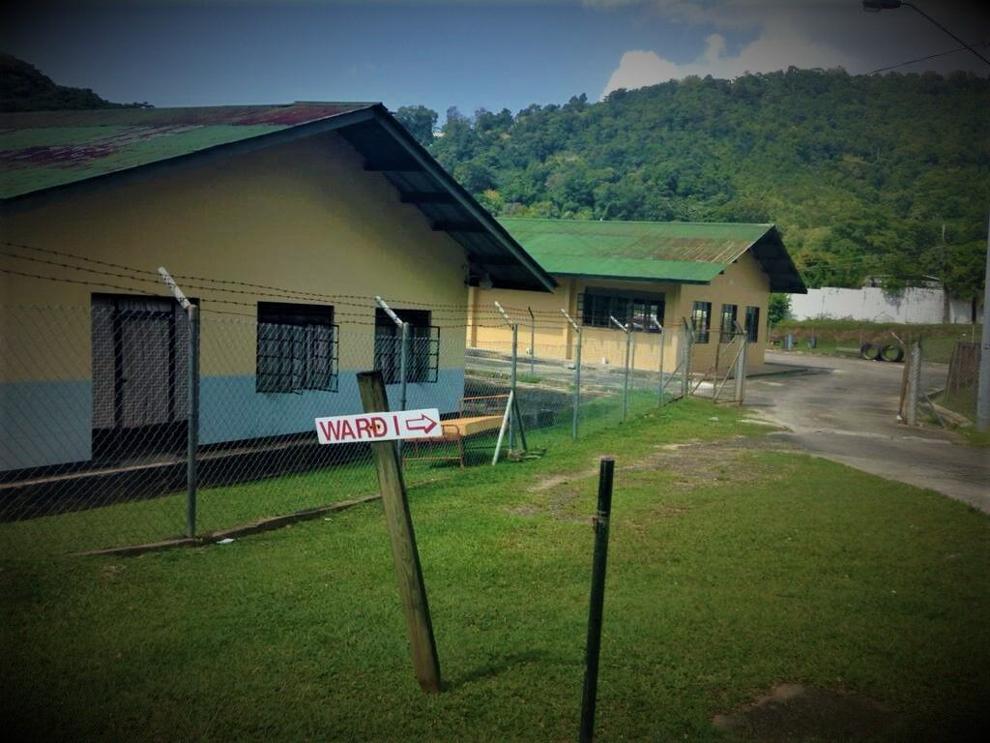 As a result, children like Maria who grew into adulthood with developmental disabilities, some housed within the rooms of a psychiatric hospital and countless unknown others, remain without legal protection, provision and care within Trinidad and Tobago.
No legal protection
The 42 developmentally disabled adults who occupy wards 12 and 13 of the St Ann's Psychiatric Hospital are among the estimated 52,244 people living with disabilities in Trinidad and Tobago (as per the 2011 National Census).
Their lives have been in the hands of hospital staff, not parents or guardian.
"The question of what is going to happen to my child if I pass away is one that every single parent of a person with disability asks themselves every single day, I can guarantee that. Children with severe developmental disabilities do not grow into adults in the same way as others, they remain children, they remain vulnerable and I have no idea what will happen when I go," one parent told the Sunday Express.
Without legislation or established facilities catering to their specific needs, these children have remained out of sight and voiceless.
The Revised National Policy on Persons With Disabilities, was introduced in 2016 by the Ministry of Social Development and Family Services in conjunction with the ratification of the United Nations Convention on the Rights of Persons with Disabilities (UNCRPD) in 2015.
Article 23 section five of the Convention states that parties subject to the convention shall, "Where the immediate family is unable to care for a child with disabilities, undertake every effort to provide alternative care within the wider family, and failing that, within the community in a family setting."
In Section 7.1 of the Policy, it is outlined that currently in Trinidad and Tobago, there is little legislation that adequately protects the rights of persons with disabilities.
"There is currently limited legislation that effectively provides protection for persons with disabilities…In this regard, there is the need for a legislative framework to be put in place. There is also the need to address the pieces of legislation which require review and amendments as they can be considered as discriminatory towards persons with disabilities," the policy states.
The Children's Authority, a body set up to care for and protect at-risk, neglected and abused children was established by the Children's Authority Act.
Section 22 defines a child in need of care or protection as one who has no fit parents or guardians, has been abandoned by parents or guardians, is exposed to moral danger, is beyond parental control, or who has been ill- treated or neglected among other things.
The Act later states that children who are determined to be mentally ill, under the Mental Health Act, will be admitted to the care of a psychiatric hospital and remain under the responsibility of the Authority.
The Mental Health Act 30 of 1975 defines a mentally ill person as someone who suffers from a disorder of mind, requiring care, supervision, treatment and control of any item for his own protection or welfare or for the protection or welfare of others.
The Act does not define or distinguish mental disorder from developmental disability in any of its sections.
Outside of these, the only legislation in Trinidad and Tobago that addresses the rights of persons with disabilities, is the Equal Opportunity Act of 2000.
This Act protects against discrimination in the provision of education, employment and other areas. It does not however dictate any protections for the care of individuals with disabilities, such as rehabilitation or social services.
In the Bahamas and Guyana, there are two guiding legal protections for people like those in wards 12 and 13.
The Persons With Disabilities (Equal Opportunities) Bill of the Bahamas and the Persons with Disabilities Act of Guyana outline the provision of substitute family care services in Section 24 of each respective bill.
Subsection E asks for, "Substitute family care services and facilities for abandoned, neglected, abused and unattached persons with disabilities who need an alternative form of care based on their individual needs."
Section 24 also calls for family care and the establishment of day care centres for children with disabilities.
As it stands, provisions such as these have not yet been proposed as additions to any existing laws of Trinidad and Tobago, nor has any new legislation been put forward since the National Policy in 2016.
Carmona: I tried
According to former President Anthony Carmona, this Bahamian piece of legislation was brought before relevant bodies during his tenure as President.
The Persons With Disabilities (Equal Opportunities) Bill was used by Carmona as an example that should be followed given the ratification of the UNCRPD.
However he said that nothing came of his suggestion.
"I can tell you in fact during my tenure I shared with authorities legislation that I had gotten from the Bahamas with regards to persons with disabilities. As an international lawyer I am very much aware of the UNCRPD and I felt it needed to be given substance. I felt that this particular piece of legislation was one that did it in the Caribbean region. Regrettably, nothing has come of it. I don't know why we have not adopted the international benchmarks and standards because I am a firm believer in equality of treatment," he told the Express in an interview in 2020.
Carmona said that while some aspects of disability have been covered by the Equal Opportunities Act in Trinidad and Tobago, there today remains a large gap in disability legislation.
"As I stated this morning (2020) I indicated that under the constitution equality of treatment is pivotal and that we do not have in our society the quality of treatment needed for our demographic of persons with disabilities," he said.
"The Equal Opportunity Act is deficient in more ways than one. We have become rather insensitive to the needs of the marginalised and it is really disconcerting. There is not only a lack of legislation but there is a lack of humanity. We have a massive institutional lapse. We must stop ourselves from becoming occasionals and become people who speak up regardless of when it is appropriate or relevant."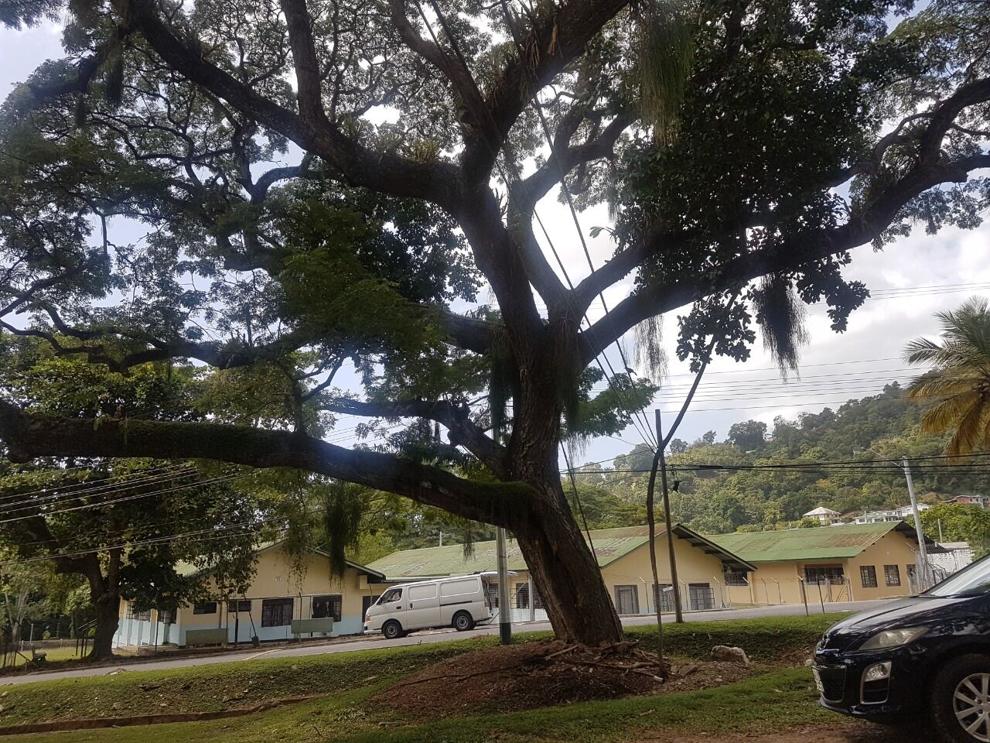 "We need to do more. It is a case of the persons with disabilities wanting access, access to jobs, access to opportunities, access to buildings. It's as simple as that. Things are not happening at all. We have a lot of talk and no action. In fact I refer to what Antonio Gutierrez stated at the international Climate Conference that he organised in New York at the UN in September last year. He told world leaders that the ticket to enter the Climate Change Conference would not be fancy speeches but action." he said.
In 2020, the Sunday Express contacted then-Attorney General Faris Al-Rawi to ask about the disability legislation in Trinidad and Tobago.
Al-Rawi said such legislation was currently being drafted.
"In fact, I have been working with a number of agencies with regards to disability laws in general. Each year I take a topic that is outside the calliper, child marriages, decriminalisation, whatever it might be. So I am working on a particular draft of legislation right now." he said.
Al-Rawi had indicated that he could answer further questions at a later time.
The following are questions sent to Al-Rawi by the Sunday Express on several occasions throughout the past two years:
Has there been any progress in legislating provisions for persons with disabilities that may include substitute family care?
Are persons with severe developmental disabilities (who cannot take care of themselves, are still at mental ages of infants, impaired functioning) the legal responsibility of the state?
To date, nearing two years later, no response has been received.
The Sunday Express also posed the same questions to current Attorney General Reginald Armour via WhatsApp in 2022.
There have been there for decades
On Friday, the Sunday Express contacted Minister of Health Terrence Deyalsingh and asked whether it was the Ministry of Health's responsibility to provide housing for developmentally disabled patients who could not care for themselves.
The Sunday Express asked if within each Regional Health Authority (RHA) there was any differentiation between the developmentally disabled and mentally ill- and if the caregivers assigned to the developmentally disabled were afforded any specialised training.
Deyalsingh referred the Sunday Express to North West Regional Health Authority (NWRHA) chief executive Anthony Blake and to the NWRHA Corporate Communications team which issued the following statement:
The North West Regional Health Authority (NWRHA) advises that wards twelve (12) and thirteen (13) at St Ann's Hospital currently house mentally subnormal patients who also have co-occuring mental health issues. The Hospital currently cares for thirty-nine (39) patients in these wards which are disaggregated by male and female.
A mentally subnormal person is someone who has a condition of arrested or incomplete development of mind and who requires care, supervision, treatment and control, or any of them, for his own protection or welfare or for the protection or welfare of others.
These patients are severely mentally disabled and cannot care for themselves and therefore require twenty-four (24) hour nursing care and support. They are unfortunately not at a level of functioning to engage in any psychological therapeutic activity.
The patients housed in these two wards have been there on average for over thirty (30) years. They were transferred from other hospitals into the St Ann's Hospital with severe developmental disorders such as Down's syndrome and intellectual disability.
The Hospital's Medical Doctors who care for these special patients, all possess Post Graduate Degrees in Psychiatry while its Nursing staff who are also involved in their daily care are all trained and certified as Registered Psychiatric Nurses. The clinical staff (doctors and nurses) have also received additional training in the following areas to allow them to appropriately care and support these patients:
• Identification of stress and its impact on a person's health
• Stressors faced by caregivers
• Stress management / coping strategies
• Strategies to treat with volatile patients:
o General volatile behaviours
o Volatile behaviours and developmental disorders
o Volatile behaviours in psychotic disorders
o Minimizing volatile behaviours
The North West Regional Health Authority continues to work with the Ministry of Health and other stakeholders to reduce the patient capacity at St Ann's Hospital and to continue to provide the best and most appropriate clinical care to all patients at our facility, inclusive of those who are cared for in these wards.