Since the first week of the winter term, colorful art installations have captured the attention of students and faculty as they move from class to class. But what are these works of art, who made them, and what do they mean?
of DU Guerrilla Craft Society A group of individuals associated with DU. Students, alumni, faculty, parents, and Denver community members. The artists' identities are anonymous and the group aims to build community and promote self-expression in public spaces in non-traditional ways.
Typical forms of street art often include graffiti and other types of vandalism that are appropriate in certain circumstances, but are often destructive and painted over.Guerrilla Craft Society (GCS)'s goal is to open up public debate on public art. A lot of their work probably has a deeper meaning and aims to convey something deeper than what you first see.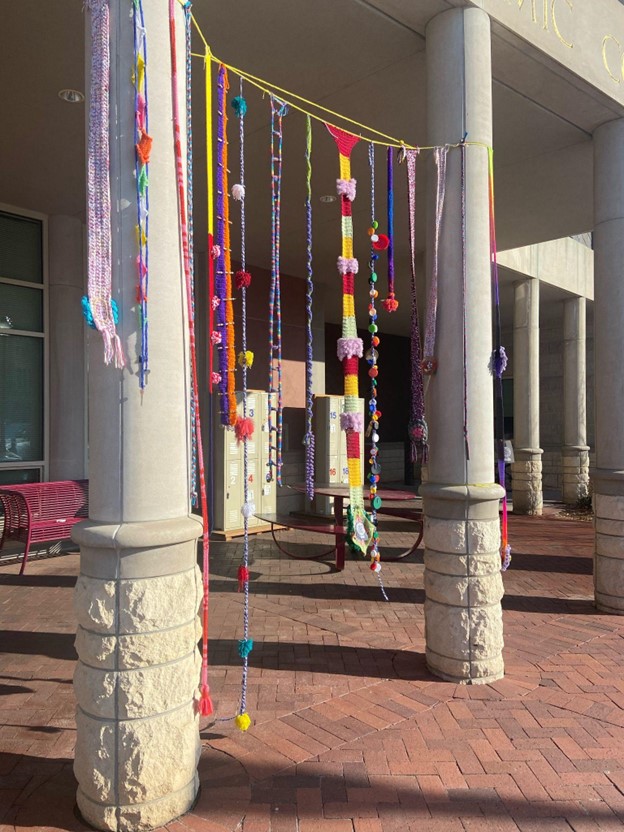 Sustainability is one of the group's core values, so all the pieces they produce are made from repurposed donated materials. Obviously, most of these installations are made from donated fabrics and yarns, but if you look closely you'll find cables, bottle caps, compact discs and more.
The use of such materials in their work reflects the intentions of society and their goal of turning trash into treasure. The products that make up these multimedia artworks, which would otherwise be thrown in the trash and contribute even more to climate change, have been transformed by GCS into something people can see and enjoy. These works encourage viewers to think about their own waste production and how they are contributing to the prevention of climate change.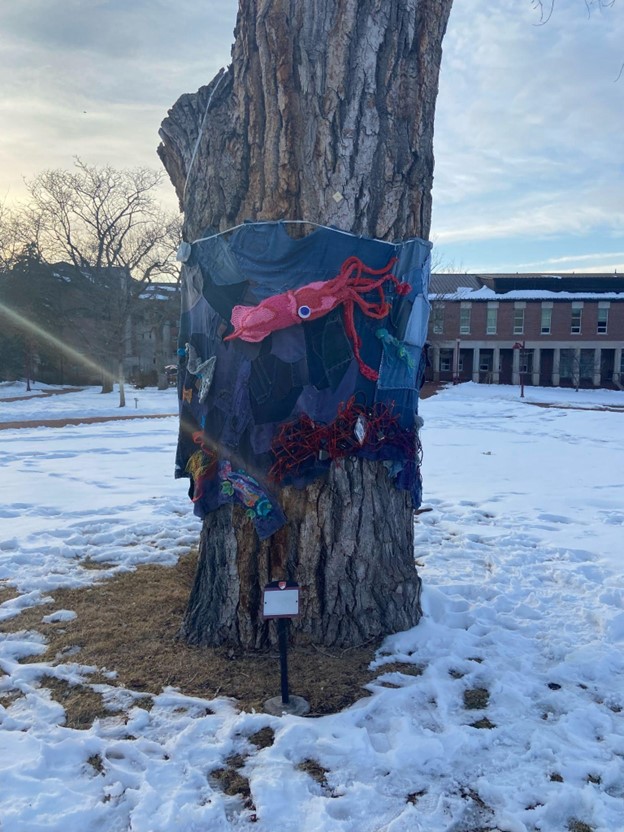 Their installations are directed towards the busiest areas of the campus, so some of their larger works can be found outside Sturm Hall, Community Commons and Anderson Academic Commons. There are 15 installations in all, some simpler and more discreet, while others capture the attention of every passerby.
The association has 27 members, 14 of whom are students or alumni, but the group is open to anyone related to DU and aims to build intergenerational connections with mutual goals. I'm here.
There are "Alchemy Stations" throughout campus where anyone can drop items that are no longer usable in hopes of making it into one of the future installments of GCS. These stations accept small products like bottle caps, broken cables, fruit meshes, sunglasses, broken fidgets, or those that otherwise end up in the trash.Large donations such as jeans, fabrics and toys can also be donated via email elizabeth.catchings@du.edu Organize your pickup.
Throughout the next few weeks of the quarter, take time to pause and notice the complexity and uniqueness of these installations. And of course, don't forget to keep an eye out for other upcoming projects by the DU Guerrilla Craft Society.