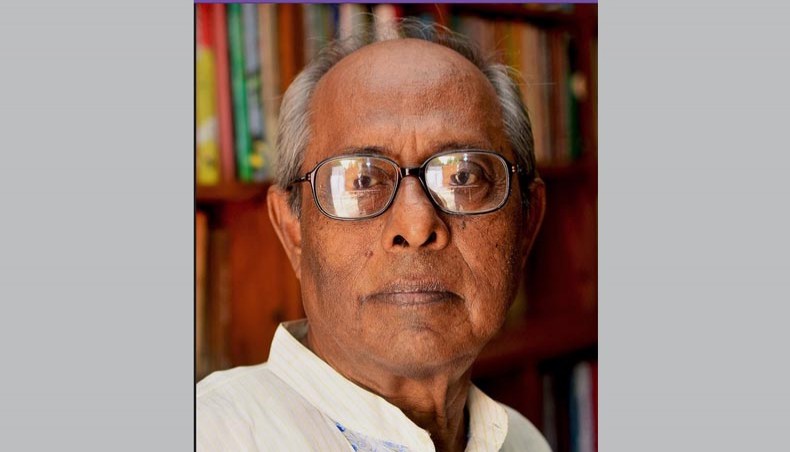 Hasan Azizul Hake.
Today marks the 84th birthday of the independent award-winning fiction writer and former professor of Rajshahi University Hasan Azizul Haque.
Hasan Azizul Haque was born on February 2, 1939 in Jabgraam, Burdwan District, West Bengal, India.
He came to what was then East Bengal in 1954 for better studies. He completed his higher secondary education in 1956 at Government BL College, Khulna. He graduated from Rajshahi College in Philosophy in 1958 and from Rajshahi University in 1960.
His first short story Shakun was published in 1960. His collection of short stories includes Samudrer Swapna Sheeter Aranya, Atmaja o Ekti Karabi Gachh, Jiban Ghoshe Agun, Patale Haspatale, Namhin Gotrahin, Amra Apeksha Karchi, Rode Jabo and Ma-Meyer. Sangsar, Rarhbanger Galpa, Bidhabader Katha o Anynya Galapa.
In 2006, Hasan Azizul Hakeh's first novel, Agumpaki, was published and won the Protom Alo Basha Sela Boi Award in 2006 and the Ananda Plaskar Award in 2008.
He has also written many essays on contemporary social, political and cultural issues. His collection of essays namely He Kathasahityer Kathakata, Chalchitrer Khnutinati, Aprakasher Bhar, Ataler Adhi, Lokjatra Adhunik Sahitya, Katha Lekha Katha, Ekattar: Kartale Chinnamatha, Ke Banche Ke Banchay, Bachanik Atmajaibanik, and Chintan-Kana.
His stories have been translated into English, Hindi, Urdu, Russian, Czech and Japanese. In 2009, the University of Assam awarded Hasan Azizul Haque a PhD in Literature for his contribution to Bangla literature. Rajshahi University also awarded him his DLitt degree at its 10th convocation in 2018.
From 1960 to 1973 he taught philosophy at universities such as Khulna Girls College and BL College. His Hasan Azizul Haque, a prominent university teacher, joined Rajshahi University in 1973 as Professor of Philosophy. In 2004 he retired from teaching after 31 years and became a full-time writer.
Hasan Azizul has won almost all of the country's major literary awards.
The Bangladesh government awarded him the country's highest honor, the Independence Prize in Literature, in 2019.
In addition, Ekshey Padak (1999), Bangla Academy Award (1970), Adamjee Sahicha Plushkar (1967), Rehak Sibir Plushkar (1973), Alaor Sahicha Plushkar (1983), Alokita Sahicha Plushkar (1981), Agrani Bank Plushkar (1984), In 1988 he was awarded the Philips Sahicha Plushkar. .
Hasan Azizul Haque passed away on November 15, 2021.